Stations of the cross - Way of the cross
THIRD STATION
Jesus falls the first time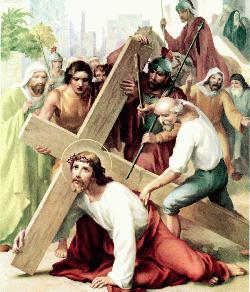 "We adore you, O Christ and we bless you. Because by your holy cross you have redeemed the world."
Here is My servant, whom I uphold, My chosen one in whom I delight; I will put my Spirit on Him and He will bring justice to the nations. He will not shout or cry out, or raise His voice in the streets. Isaiah 42:1-2
Lord in this first fall you atoned for the original sin of all humanity, I thank you and praise for your unlimited love for me, please Lord, help me not to sin any more.

The Work of God
www.theworkofgod.org