Purgatory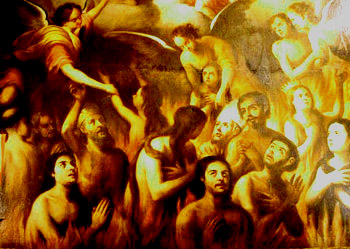 Reality of Hell, Heaven, Purgatory.
Life, death and the last things > Purgatory
After the Particular Judgment, the soul feels the need of being purified in order to be in the Presence of God for all eternity. That joy of having been in His Presence for just an instant causes it an insatiable hunger for God and the desire to be totally purified to enjoy the beatific vision.
Even though the sin has been forgiven on earth, if the soul did not make reparation for its guilt, it will need to be purified in the same way as gold is purified in fire until any stain that was not cleansed with the Precious Blood of Christ here on earth be purified with the fire of the Divine Justice. Hence the importance of reparation that we must do constantly by charity to our neighbor, and with virtues that replace all the vices and sins that the soul has had in mortal life. In Purgatory the soul cannot pray for itself, given that all that was not done in life cannot be done after death, therefore the soul is left at the mercy of the people on earth who pray for it.
The love of God is a consuming fire, (Heb 12:29), the soul must be purified by in that love. That purification can be found here on earth if we live by the Divine Will and practice Mercy, if we don't, then we will find in the Divine Justice the Love of God that does not reject us but waits for us in its fire to purify us.
There are many who deny Purgatory, they judge imperfectly the Mercy of God. If nothing impure can enter Heave, how then can we enter? (Rev 21:27)
If Peter felt himself impure before the holiness of the Lord and said: Stay away from me Lord, because I am a sinner. (Luke 5:8) In the same way, the soul will see its impurity and will recognize that it is not worthy to be in the Presence of God who is a consuming fire. (Heb 12:29)
The soul cannot enter the fire of God without being burned, when it is burning itself with the same intensity of that fire. In this consists the purification of the soul, in love. To love God above all things and our neighbor as ourselves. The purification of love has been reached by many good souls who lived on earth to do the Will of God. The Church has given us its testimony of the lives of the saints, they have related their experiences with the souls in Purgatory, from that we have the knowledge that takes us to speak of Purgatory as a reality that takes place after death.
Purgatory can be avoided if we live a holy life, which consists in accepting the Will of God in all circumstances, during our sufferings and especially in the moment of our death. We can show our love for God when we desire to live in His Presence and we do all things through Him, with Him, in Him and for Him. (Rom 11:36)
We must know, love and serve God. (1Joh 2:3) Given that Jesus has saved us through His suffering on the cross, we must become very familiar with His Passion, Agony and Death.
We must acknowledge that He is with us (Emmanuel), truly present in the Most Blessed Sacrament of the Altar. We must live the Holy Mass with utmost respect and thanksgiving, since this is a re enactment of the sacrifice of Calvary in an unbloody manner, which Christ Himself asked to be done in His memory. (Luk 22:19)
We must receive the Holy Eucharist, Christ's Body and Blood in a state of Grace, that is to say, having confessed our sins. If we demonstrate this love for Christ in His Eucharistic Presence, our Salvation is assured; and if we make reparation for our sins, we avoid having to make expiation for them in Purgatory.
Almsgiving has great value before God, charity atones for many sins.(1Pet 4:8). A great act of charity that we can perform is to offer our good works in expiation for the sins of the Holy Souls in Purgatory, since they cannot pray for them or do anything except to wait for our almsgiving and the Divine Mercy.

Read Treatise on Purgatory, by Saint Catherine of Genoa.
How to avoid Purgatory - Several devotions

Reality of Hell, Heaven, Purgatory.
Life, death and the last things > Purgatory