Saint Clare of Assisi
She came from a noble family. After hearing Saint Francis of Assisi preach in the streets, she confided to him her desire to live for God, the two became close friends. On Palm Sunday 1212 the bishop presented her with a palm, which she apparently took as a sign from God. Clare and her cousin Pacifica ran away from her mother's palace during the night. At the Altar of Our Lady, St Francis cut off her hair during a ceremony in which she gave herself to God as a religious, in the Church of Our Lady of the Angels in Assisi.
Later she founded the Order of "Poor Clares" at San Damiano, and led it for 40 years. Everywhere the Franciscans established themselves throughout Europe, there also went the Poor Clares, depending solely on alms, forced to have complete faith on God to provide through men; a lack of land-based revenues was a new idea at the time. Clare's mother and sisters later joined the order, and there are still thousands of members living lives of prayer, poverty and silence.
Clare loved music and well-composed sermons. According to those who knew her, she was humble, merciful, charming, optimistic, and chivalrous. She would get up late at night to tuck in her sisters who'd kicked off their covers. She daily meditated on the Passion. When she learned of the Franciscan martyrs in Morocco in 1221, she tried to go there to become a martyr herself, but was restrained. Once when her convent was about to be attacked, she displayed the Sacrament in a monstrance at the convent gates, and prayed before it; the attackers left. Toward the end of her life, when the was too ill to attend Mass, an image of the service would be displayed on the wall of her cell; thus she is called the patroness of television. She was ever the close friend and spiritual student of Francis, who apparently led her soul into the light.
Her body remains incorrupt.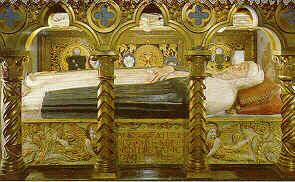 The Work of God Apostolate
www.theworkofgod.org
---