Saint Vincent de Paul
He was born in 1581 near Ranquine, Gascony near Dax, southwest France. He died in Paris in 1660. His body remains incorrupt. He became a Priest at the age of 20, he was later captured by Turkish pirates who sold him into slavery. When he converted his second Master, he was freed.

As a Parish Priest working near Paris, he organized groups to assist the poor, to care for the sick, to find job for the unemployed, etc. He founded the Congregation of the Daughters of Charity with Louise de Marillac. He also instituted the Congregation of Priests of the Mission (Lazarists).
His work of Charity continues today with the Society of Saint Vincent De Paul.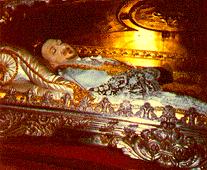 The Work of God Apostolate
www.theworkofgod.org

---