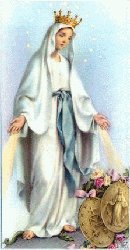 Sacramentals are those rites, actions and things which the Church uses in imitation of the Sacraments in order to obtain through the intercession of the Saints certain effects, particularly of spiritual nature. If used in accordance with the mind of the Church, sacramentals are the means of receiving actual grace to do good and avoid evil, of protection of soul and body, and the remission of venial sin. Among the sacramentals are prayers, holy water, blessings, the sign of the cross, salt, ashes, medals, the Rosary, candles, vestments, etc.
What makes them very special is that they have the blessing of the priest, who has received the special anointing for consecrating even the bread and the wine into the Sacred body and blood of Christ.
Every Catholic should wear a scapular, medal or any other sacramental, also every Catholic house should display images of Our Lord, Our Lady and the saints. The crucifix is a beautiful reminder of how great the Love of God is for us.