Details of the life of the Blessed Virgin Mary
The Work of God > > Virgin Mary >> Details of the life of the Blessed Virgin Mary
As revealed to the Venerable Sister Maria of Agreda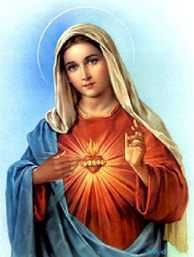 327. She was born pure and stainless, beautiful and full of grace, thereby demonstrating , that She was free from the law and the tribute of sin.
Although She was born substantially like other daughters of Adam, yet her birth was accompanied by such circumstances and conditions of Grace, that it was the most wonderful and miraculous birth in all creation and will eternally redound to the praise of Her Maker. At twelve o'clock in the night this divine luminary issued forth, dividing the night of the ancient law and its pristine darkness from the new day of Grace, which now was about to break into dawn.
She was clothed, handled and dressed like other infants, though Her soul dwelt in the divinity ; and She was treated as an infant, though She excelled all mortals and even all the angels in Wisdom. Her mother did not allow Her to be touched by other hands than her own, but She herself wrapped her in swaddling clothes : and in this Saint Anne was not hindered by her presence state of childbirth; for she was free from the toils and labours which other mothers usually endure in such circumstances.
At the age of three the little child was taken to the temple and the parents suffered great sorrow but at the same time joy for fulfilling the vows they had made to the Lord.
The Queen of Heaven, was received by holy priest Simeon to be placed at the care of the prophetess Anne.
The child Mary, when brought to her teacher, knelt in profound humility before her and asked her blessing. She begged to be admitted among those under her direction, obedience and counsel, and asked her kind forbearance in the labour and trouble, which She would occasion. The prophetess Anne, her teacher, received Her with pleasure and said to Her: My daughter, Thou shall find in me a helpful mother and I will take care of Thee and of Thy education with all possible solicitude.