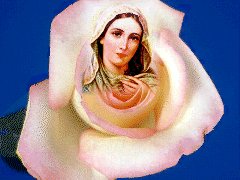 The devotion of one Rosary a day will keep the devil away ! secrets
The Holy Rosary is our Lady's
favourite prayer.
The family that prays together stays together.

New ! Send your prayer request to Our Apostolate
download the Rosary for Windows PC

Holy Rosary devotion to Our Lady, Mysteries, secrets, promises
In recent times the Mother of God has appeared in various parts of the world and asked for the recitation of the Holy Rosary, the prayer she gave to the world centuries ago. It is her favorite prayer for it is essentially a meditation on the life of her Divine Son. It is a combination of vocal prayer (the Our Fathers & Hail Marys) and of mental prayer, namely, reflection on important events in the life of Christ and His Mother.

When one refers to the Holy Rosary, it is usually understood to mean five decades, or one third of the entire devotion. While many Catholics pray five decades each day, there is a considerable number who pray the fifteen decades daily.

The Rosary is not in the Bible (say the Protestants), but we Catholics say that the Bible is in the Holy Rosary
It is in the plan of God that we practice devotions to Our Lady, since She is our strongest advocate before Him. Our Blessed Mother has requested that we spread devotions to Her Immaculate Heart.

As long as priests followed Saint Dominic's example and preached devotion to the Holy Rosary, piety and fervor thrived throughout the Christian world and in those religious orders which were devoted to the Rosary. But since people have neglected this gift from heaven, all kinds of sin and disorder have spread far and wide. (Secrets of the Rosary o)

God bless you for your visit !