Meditations on the Passion of Our Lord Jesus Christ THE HOURS OF THE PASSION OF OUR LORD JESUS CHRIST
By Luisa Piccarreta , little daughter of the Divine Will. (In process of beatification)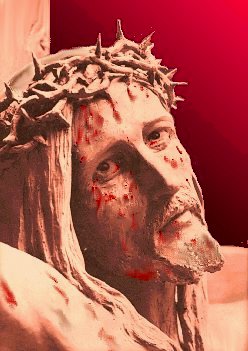 These are reflections, meditations, visions and moments of the Passion of Our Lord as seen and lived by Luisa.
They are divided in twenty four hours, however for the purposes of meditation, they can be meditated at any hour of the day.
Great merit and abundant graces are received by souls who accompany Jesus in his holy passion. These meditations bring the sufferings of Jesus to life, and grant great knowledge of his love for us.

Luisa Piccarreta was born in Corato Italy on April 23, 1865, and died on March 4, 1947. During 64 years she was confined to bed with a mysterious suffering, time which she spent writing about the Kingdom of the Divine Will.
Meditate the Passion of Our Lord
Imprimatur (Italian Language edition) Primera edizione (20-02-1915)
Nihil Obstat: Francesco Sorrentino (Revisore Ecclesiatico) Imprimatur: A. Can. Laviano, V. G.
* Preparation before each hour
* Thanksgiving after each hour
1 Jesus takes leave of His Most Holy Mother
2 Jesus departs from His Most Holy Mother and sets out for the Cenacle
3 The Legal Supper
4 The Eucharistic Supper
5 First Hour of Agony in the Garden of Gethsemani
6 Second Hour of Agony in the Garden of Gethsemani
7 Third Hour of Agony in the Garden of Gethsemani
8 Jesus is arrested
9 Thrown from a ledge, Jesus falls into the Cedron stream
10 Jesus is presented to Annas
11 Jesus in the house of Caiphas
12 Jesus at the mercy of the soldiers
13 Jesus in prison
14 Jesus before Caiphas again - His condemnation to death
15 Jesus before Pilate. Pilate sends Him to Herod
16 Jesus is brought back to Pilate and placed after Barabbas. The scourging
17 Jesus is crowned with thorns. "Ecce Homo!" Jesus is condemned to death
18 Jesus takes up the Cross and walks toward Calvary - Jesus is stripped
19 The Crucifixion of Jesus
20 The first word of Jesus
21 Second, third and fourth word of Jesus
22 Fifth, sixth and seventh word of Jesus. The death of Jesus
23 Jesus, dead, is pierced by the thrust of a lance - The deposition from the Cross
24 Most Holy Desolate Mary Prayer to disarm the Divine Justice
For more information about Luisa Piccarreta
and her other writings, contact: Center for the Divine Will (Association Luisa Picarreta)
P.O. Box 5 - Ortega Station Jacksonville, Florida 32210 - USA

Stations of the cross
Last seven words of Jesus
1 Father, forgive them, for they know not what they are doing
2 Today you will be with Me in Paradise
3 Woman, behold your son - To John and everyone: behold your mother
4 My God, my God, why have You abandoned Me?
5 I thirst
6 All is consummated
7 Father, into your hands I commend my spirit