BECOMING LIKE JESUS CHRIST
by Joseph of Jesus and Mary
Be still and know that I am God (Ps 46:10)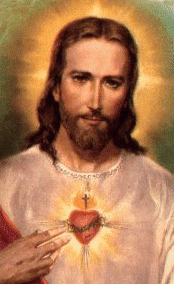 CONTENTS

Becoming like Jesus through devotions

Becoming like Jesus through the Sacraments
"Become like unto me", says our Lord Jesus Christ. Be Holy as I am Holy. (Leviticus 11:44)
According to the Venerable Maria of Agreda (c1600), in revelations from Our Lady in "the Mystical City of God", these were the first words that the Incarnate Word of God spoke to his mother Mary when He first looked at her with his human eyes: "Become like unto me". In the same way that the moon reflects the sun, our Lady lived a life in obedience to those words, She became a true reflection of Jesus in virtue and holiness.
How can we become like Jesus Christ? Jesus is the reflection of the Father, the splendour or Holiness, Glory and Majesty. If we look at Jesus we also look at God the Father (John 14:8). If we look at an image of Jesus we can feel something very extraordinary about Him, and we may ponder what it would be like, to be with the God man and to become like Him.
If we study the Gospels, then we can have a clearer image of the virtues and personality of Jesus and we can sense the Divine attributes in Him.
To become like something we must be impregnated with that substance, for example, if we dip our hands in water we get wet, if we place our hands in fire we get burned.
We have a saying "you are what you eat" and this holds true when we receive Jesus in the Blessed Sacrament of the Holy Eucharist. We eat Jesus' flesh and we become like Him who is eternal life. Jesus said unless you eat my flesh and drink my blood, you shall not have life within you (John 6:52). He truly desires to impregnate us with his flesh and blood, to purify us so that we become like Him.
Now, if we also come in the Presence of Our Lord Jesus Christ and contemplate his attributes, we begin to absorb or rather to experience the reflection of Holiness that God desires to share with all those who come to Him. "Be Holy as I am Holy". Moses shone with dazzling light after he was exposed to the Presence of God in the burning bush (Exodus 34:29). St. Stephen's face shone with the reflection of the Heavenly Light he saw when he was being martyred for Christ (Acts 7:54-55).
We have lost the image of God in our souls through the sin of our first parents and then through our own sinfulness. Christ has come to restore us to holiness in his image. So if we come before the divine attributes of the Incarnate Word of God, the virtues of Christ the man and the qualities of his perfect personality, we have a better picture of Jesus and we can acknowledge him as the perfect image that we desire for our souls.
This type of reflection involves meditation and a very profound sincere interest in becoming like Jesus. God alone is good and He is the source of all goodness. If we possess a good quality, say for example patience, it is because this has come to perfection through our own hard work and perseverance, aided by the grace of God Who desires us to be patient as He is patient. The same applies to every good quality that we wish to posses.
If we want to become like Jesus Christ Our Lord, we must desire to possess all his human qualities, plus all his divine attributes which are unique to God. They must be reflected upon our souls in order that we may become what God wants us to be: "his own reflection". While this sounds very desirable but difficult, we need to do our work by amending our lives and by practicing living in the Presence of God. We can start by saying like Jesus, the flesh is weak but the Spirit God has given us is strong.
In order to make ourselves available to this great work of God for us, we must come humbly before Him with a repentant heart and with a desire to become like Jesus Christ. Then He can save our souls, make us his instruments and prepare us to do his work.
Our Catholic Church is rich in sainthood. Over the centuries, hundreds of beautiful devotions have been revealed by Our Lord to many saints. Those devotions meditate on the sufferings of Jesus, his passion, agony and death. Those devotions and intimate prayers place our souls before the Grace of Christ, they are attached to promises by Our Lord, they remind us of the value of the sufferings of Our Lord and help us to imitate His life of humility and surrender to the Will of God the Father. They help us to live a Christ like life in Imitation of Christ.
The most powerful devotions to achieve Christ likeness, to become like Him are the devotions to His Holy Wounds, devotions to the Precious Blood, Devotions to the Sacred Heart of Jesus, devotions to His Divine Mercy and the humble devotion of the Holy Rosary in which we go through the life of Our Lord from His conception until His death and resurrection.
The Sacrament of Baptism is our entry into Christ, in it we are clothed with the light of Christ and receive the Holy Spirit and the sanctifying Grace to become like Jesus. Whenever we fall into sin we come to the Sacrament of Penance where we confess our sins and are restored to Grace. In Holy Communion Christ enters our body as we partake of His Body, Blood, Soul and Divinity. The Lord prayed to the Father so that we become ONE with Him. John 17:21 that all of them may be one, Father, just as you are in me and I am in you. May they also be in us so that the world may believe that you have sent me.
The Sacraments increase Grace in us and we become more open to the action of the Holy Spirit. If we surrender totally to the Holy Spirit, He will possess us and then we can say with Saint Paul, Galatians 2:20 I have been crucified with Christ and I no longer live, but Christ lives in me. The life I now live in the body, I live by faith in the Son of God, who loved me and gave himself for me.

Interior silence and meditation This is a very powerful way of silencing the soul and presenting ourselves in the Presence of God.